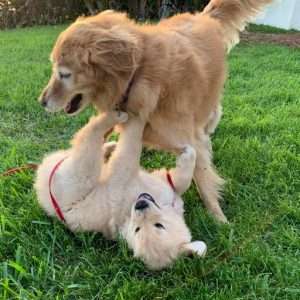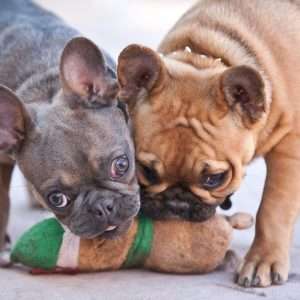 Puppy Training & Socialization Services
designed to help you and your puppy develop a strong bond, learn essential skills and behaviors, and have fun along the way.
Serving the San Antonio Metro area and the northern neighboring communities, such as Bulverde and Boerne Texas
Cyndi at Pawtastic Pet Solutions was phenomenal! Thanks to her, our 4-month-old Golden Doodle, Willow, is off to a terrific head start.
Cyndi's approach using positive reinforcement has made all the difference in the world. She has been incredibly patient and supportive with us too as we learned along with Willow in the comfort of our own home. Her flexibility in scheduling and customized training content, was a huge part of our success as we struggled in a couple of areas early in. I'm confident that Cyndi's professionalism and commitment to the best interest of our puppy helped us accomplish in one short month what otherwise would have taken many months. I highly recommend Cyndi, especially if you want a trainer who is dedicated to helping your furry family member get a terrific head start
Here's what you can expect from our puppy training programs
 A personalized puppy training plan tailored to your training goals and based on your puppy's age (8 weeks to 12 months), individual needs and temperament
One-on-one puppy training sessions in your home
Weekly homework assignments based on progress
Unlimited email and text support between sessions
Flexible options for number of sessions and type of training (private lessons or day training)
Wide range of topics and skills covered, such as socialization, potty training, basic obedience, leash walking, etc.
Realistic expectations: no unrealistic guarantees or promises, but professional training, guidance, support, and feedback
Positive reinforcement and modern training methods used
Fun and enjoyable training for both you and your puppy
The puppy training program covers the following topics:
Socialization and exposure to different people, animals, places, and situations. Handling to prepare for baths, grooming and Vet visits. Habituation to common sounds around their environment.

Potty training and crate training

Basic obedience commands such as sit, stay, come, down, wait, leave it, drop it, etc.

Leash walking and polite greetings

Impulse control and bite inhibition

Food manners and resource-guarding prevention

Problem-solving and prevention of common issues such as jumping, barking, chewing, digging, etc.
Different Puppy Training Programs: Flexible and Adaptable to Your Needs and Budget
Practical "DIY" Private Lesson Packages: Consists of 4-6 private lessons.

"Quick Start" Program: Includes 4 training sessions for your puppy and one transfer session to train you.

"Right Start" Day Training Program: A 3-week program with 9 training sessions, 3 transfer sessions, and 3 optional socialization sessions.

"Complete Transformation" Day Training Program: A 4-week program designed for older puppies (5-12 months old) with more behavior issues.

Monthly Pup-Club: A membership program with 2-4 sessions per month to work on harder behavior issues like reactivity.

One Year – "Best Dog Ever" Training Program: A comprehensive one-year program that covers all levels of training for your puppy, leading up to Canine Good Citizen certification or preparing them for a future as a Service Dog, Emotional Support Dog, or Therapy Dog.
During our phone consultation, we will discuss these options and suggest the most suitable one based on your training goals, budget, and time availability. Costs range from $440 to $2,100 or more.
Why Choose Our Customized Puppy Training Services
Here at Pawtastic Pet Solutions, we firmly believe that each and every furry little family member is special and deserves a tailored training program to meet their unique needs, ambitions, and personality. That's why we proudly provide personalized puppy training programs that cover a wide array of vital topics and essential skills. From socialization and potty training to basic obedience, leash walking, impulse control, bite inhibition, food manners, problem-solving, and so much more, we've got you covered.
With flexible options for the number of sessions and training type (private lessons or day training), we're committed to finding the perfect fit for your schedule and budget. Our exceptional puppy training programs are suitable for puppies of any breed or size, ranging from 8 weeks to 12 months old.
What We Can and Cannot Do in Our Puppy Training Services – Setting Expectations
We want to set expectations with you about what we can and cannot do in our puppy training programs. Our goal is to provide professional training services, guidance, support, and feedback throughout the training process. While we cannot guarantee covering everything you want or need in a specific number of sessions or training type, we are committed to helping you achieve realistic and achievable goals for your puppy's development.
We cannot promise that your puppy will learn everything perfectly or behave exactly as you wish. Factors like their health, environment, and genetics may influence their learning and behavior. However, we can use modern positive reinforcement training methods and teach you how to effectively implement/reinforce that training. Our aim is to help you understand your puppy's behavior and communication better, making the training experience fun and enjoyable for both you and your puppy.
Join us on this exciting journey of growth and development for your beloved pup!
Contact us today to get started.
Ready to Get Started?

Contact Expert Dog Trainer Cyndi Smasal to Discuss Your Specific Training Needs!
Send her a text or direct message. She usually responds right away.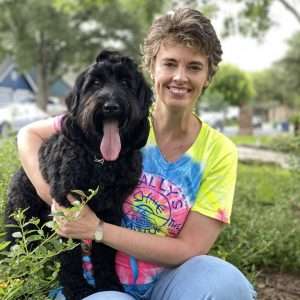 Cyndi Smasal, CPDT-KA
Certified Professional Dog Trainer / Integrative Pet Specialist
Author, Nutrition Specialist, and Longevity Junkie
Business hours:
Mon - By Appointment only
Tue - 10am - 7pm
Wed - 10am - 7pm
Thur - 10am - 7pm
Fri - 10am - 7pm
Sat - 11am - 5pm
Sun - By Appointment only
How Much Does It Cost?
Prices vary per service
Initial consultation over the phone/zoom/chat to discuss your dog/cat and see if we can help, is always FREE.
Initial Dog Training Evaluation and Consultation fee is $125 for 1.5-2 hours, performed in your home. If you purchase a training package, then this consultation is also free.
In-Home Day Training Programs vary between $337-$477 per week (3 dog training sessions + 1 transfer session)
In-Home Dog Training/Private Lessons & Coaching are $97 each, with discounts for packages of 4 or more lessons, starting at $348.
Pet Health Coaching/Nutrition Phone/Zoom consultation fee is $45 for half hour or $87 for an hour (phone/zoom).
During the consultation I will listen to all of your concerns and develop a custom integrative solution to meet your specific needs. Prices for custom solutions vary.
This is similar to how things work when going to see your Vet. You pay a visit fee and then pay for each additional service provided.
(Prices are subject to change. Discounts and payment options are available for preferred customers and referrals from partnering independent pet stores.)
How Long Does It Take?
This depends on the service.
In-Home Day Training Programs are usually 2-3 weeks.
In-Home Dog Training/Private Lessons are usually done once a week over 4-6 weeks.
Custom diets usually take 5-7 days.
There is currently a 1-2 week waiting period for new dog training clients and custom diets. Please contact Cyndi right away to get on the schedule.