We're thrilled to offer you two fantastic options for In-Home Dog Training
We'll Train Your Dog With You: (Private Lessons)
Our expert trainers will personally visit your home and teach you effective training techniques using modern positive reinforcement methods. You'll gain invaluable skills in communicating with your dog, mastering basic manners/obedience, modifying unwanted behaviors, and fostering an enjoyable bond with your furry friend. Expect personalized homework assignments and ongoing support, ensuring steady progress for both you and your dog.
We'll Do The Training For You: (Day Training)
When you haven't had a dog in a while, your schedule gets busy, or you'd prefer that we do the training for you. We're here to help! Our certified dog trainer and behaviorist will come to your home and professionally train your dog or puppy while you watch or while you're away.
Using our proven techniques, we'll cover everything from essential manners to modifying unwanted behaviors. You get trained (transfer session) once a week to teach you the new skills your dog has learned so that you can start practicing. At the end of the program, we'll conduct a comprehensive transfer session where we'll demonstrate your dog's achievements and provide guidance on maintaining their newly acquired skills.
In-Home Dog Training
Are you ready to have a well-behaved and happy dog that listens to you and follows your rules? Say goodbye to unwanted behaviors and accidents, and say hello to enjoyable moments spent with your furry friend. With In-Home Dog Training, you can train your dog in the comfort of your own home and at your own pace.
In-Home Dog Training offers a personalized and flexible service designed for clients who prefer training their dogs in their own environment. Whether you have a new puppy, an adult dog, or multiple dogs, we are here to help you achieve your training goals and overcome any challenges you may be facing.
We can't wait to work with you and your beloved canine companion!
With In-Home Dog Training, you can
Get a jump start to address your dogs' specific problem behaviors
Address common behavior problems like jumping, barking, and pulling on leash
Teach everything from Basic Manners to Advanced Canine Good Citizen
Reduce or eliminate unwanted behaviors quickly and effectively
See results in as little as one training session
Transform your dog's behavior and strengthen the bond with personalized attention and guidance
Receive convenient, flexible training in the comfort of your own home
Enjoy a stress-free experience with an experienced and certified dog trainer
Learn new modern positive reinforcement training techniques designed to quickly teach good manners to your pup
Enjoy the flexibility of setting a timetable that works best for you and your pup
If you're looking for In-Home Dog Training, we'd love to hear from you! Get in touch with us today to schedule a complimentary phone consultation. We will carefully listen to your training goals and discuss your preferred learning approach, crafting a personalized training plan that aligns with your objectives and budget.
Don't wait any longer! Give your dog the best gift of all: a happy and harmonious life with you!
Ready to Get Started?

Contact Expert Dog Trainer Cyndi Smasal to Discuss Your Specific Training Needs!
Send her a text or direct message. She usually responds right away.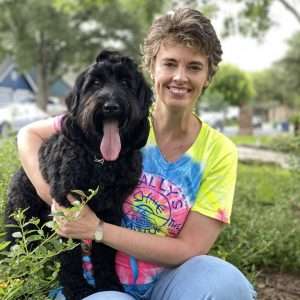 Cyndi Smasal, CPDT-KA
Certified Professional Dog Trainer / Integrative Pet Specialist
Author, Nutrition Specialist, and Longevity Junkie
Business hours:
Mon - By Appointment only
Tue - 10am - 7pm
Wed - 10am - 7pm
Thur - 10am - 7pm
Fri - 10am - 7pm
Sat - 11am - 5pm
Sun - By Appointment only
How Much Does It Cost?
Prices vary per service
Initial consultation over the phone/zoom/chat to discuss your dog/cat and see if we can help, is always FREE.
Initial Dog Training Evaluation and Consultation fee is $125 for 1.5-2 hours, performed in your home. If you purchase a training package, then this consultation is also free.
In-Home Day Training Programs vary between $337-$477 per week (3 dog training sessions + 1 transfer session)
In-Home Dog Training/Private Lessons & Coaching are $97 each, with discounts for packages of 4 or more lessons, starting at $348.
Pet Health Coaching/Nutrition Phone/Zoom consultation fee is $45 for half hour or $87 for an hour (phone/zoom).
During the consultation I will listen to all of your concerns and develop a custom integrative solution to meet your specific needs. Prices for custom solutions vary.
This is similar to how things work when going to see your Vet. You pay a visit fee and then pay for each additional service provided.
(Prices are subject to change. Discounts and payment options are available for preferred customers and referrals from partnering independent pet stores.)
How Long Does It Take?
This depends on the service.
In-Home Day Training Programs are usually 2-3 weeks.
In-Home Dog Training/Private Lessons are usually done once a week over 4-6 weeks.
Custom diets usually take 5-7 days.
There is currently a 1-2 week waiting period for new dog training clients and custom diets. Please contact Cyndi right away to get on the schedule.