The Pawtastic Dog Training Program
is designed to help you and your dog develop a strong bond, learn essential skills and behaviors, and have fun along the way.
Serving the San Antonio Metro area and the northern neighboring communities, such as Bulverde and Boerne Texas
Results were almost Immediate!
Mia was a 3yo, female black lab who was a wild child, she would run away, jump on people and counter surf among other bad things. We engaged with Cyndi in June 2022 and she began training Mia 3 times weekly. : the results were almost immediate. She started to sit, lay down. to pay attention and to not jump on strangers…
With our Dog Training Program, you can
Teach your dog basic manners and essential verbal cues and hand signals
such as "sit", "stay", "come", "down", "wait", "leave it", "drop it", and more
Get immediate results, where you need them, with our experienced certified dog trainer and behaviorist
Achieve the highest level of training and behavior modification for your dog
Get your dog back on the right track and set them up for future success
Build an unbreakable bond between you and your dog with trust-based training methods
Learn how to train your companion dog with love and positive reinforcement

Enjoy having the well-behaved dog you've been dreaming of.
Address common problems such as:
Not coming when called
Jumping on people
Jumping on furniture
Door dashing
Pulling on leash
Attention seeking – pawing/whining
Chewing/destroying/digging
Counter surfing/begging
Fence fighting (barking outside)
Watchdog barking
Barking/pulling and lunging at other dogs on leash
Here's what you can expect from our dog training program
A personalized training plan tailored to your training goals and based on your dog's individual needs

One-on-one dog training sessions in your home

Weekly homework assignments based on progress

Unlimited email and text support between sessions

Flexible options for number of sessions and type of training (private lessons or day training)

Wide range of topics and skills covered, such as potty training, basic manners/obedience, leash walking, and behavior modification

Realistic expectations: no unrealistic guarantees or promises, but professional training, guidance, support, and feedback

Positive reinforcement and modern training methods used

Fun and enjoyable training for both you and your dog
Different Dog Training Programs:
Flexible and Adaptable to Your Needs and Budget
Practical "DIY" Private Lesson Packages: Consists of 4-6 private lessons.

"Quick Start" Program: Includes 4 training sessions for your dog and one transfer session to train you.

"Re-Start" Day Training Program: A 3-week program with 9 training sessions, 3 transfer sessions, to get your dog back on track.

"Complete Transformation" Day Training Program: A 4-week program designed for adult dogs with long-standing behavior issues.

"Multi-Dog Home" Day Training Program: A training program designed for homes with two or more dogs that trains the individual dogs and all of the dogs together.

Monthly Pup-Club: A membership program with 2-4 sessions per month to work on harder behavior issues like reactivity.

6-Month "Best Dog Ever" Training Program: A comprehensive 6-month program that covers all levels of training for your dog, leading up to Canine Good Citizen certification or preparing them for a future as a Service Dog, Emotional Support Dog, or Therapy Dog.
During our phone consultation, we will discuss these options and suggest the most suitable one based on your training goals, budget, and time availability.
Costs range from $440 to $2,100 or more.
Why Choose Our Customized Dog Training Program
Here at Pawtastic Pet Solutions, we firmly believe that each and every furry family member is special and deserves a tailored training program to meet their unique needs, goals, and personality. That's why we proudly provide personalized dog training programs that cover a wide array of important topics and advanced skills. From basic obedience and leash walking to impulse control, recall, leash skills and so much more, we've got you covered.
With flexible options for the number of sessions and training type (private lessons or day training), we're committed to finding the perfect fit for your schedule and budget. Our exceptional adult dog training programs are suitable for dogs of any breed or size, ranging from 12 months to 10 years old.
What We Can and Cannot Do in Our Dog Training Program – Setting Expectations
We want to set expectations with you about what we can and cannot do in our dog training programs. Our goal is to provide professional training services, guidance, support, and feedback throughout the training process. While we cannot guarantee covering everything you want or need in a specific number of sessions or training type, we are committed to helping you improve your dog's behavior and skills.
We cannot promise that your dog will master every skill or behave exactly as you want. Factors like their health, environment, and genetics may affect their learning and behavior. However, we can use modern positive reinforcement training methods and teach you how to effectively implement/reinforce that training. Our goal is to help you understand your dog's behavior and communication better, making the training experience fun and enjoyable for both you and your dog.
Join us on this rewarding journey of improvement and enrichment for your beloved dog!
Contact us today to get started.
Ready to Get Started?

Contact Expert Dog Trainer Cyndi Smasal to Discuss Your Specific Training Needs!
Send her a text or direct message. She usually responds right away.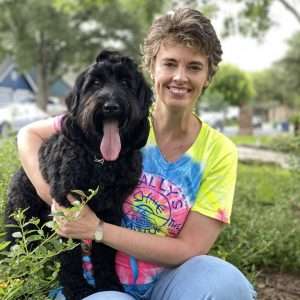 Cyndi Smasal, CPDT-KA
Certified Professional Dog Trainer / Integrative Pet Specialist
Author, Nutrition Specialist, and Longevity Junkie
Business hours:
Mon - By Appointment only
Tue - 10am - 7pm
Wed - 10am - 7pm
Thur - 10am - 7pm
Fri - 10am - 7pm
Sat - 11am - 5pm
Sun - By Appointment only
How Much Does It Cost?
Prices vary per service
Initial consultation over the phone/zoom/chat to discuss your dog/cat and see if we can help, is always FREE.
Initial Dog Training Evaluation and Consultation fee is $125 for 1.5-2 hours, performed in your home. If you purchase a training package, then this consultation is also free.
In-Home Day Training Programs vary between $337-$477 per week (3 dog training sessions + 1 transfer session)
In-Home Dog Training/Private Lessons & Coaching are $97 each, with discounts for packages of 4 or more lessons, starting at $348.
Pet Health Coaching/Nutrition Phone/Zoom consultation fee is $45 for half hour or $87 for an hour (phone/zoom).
During the consultation I will listen to all of your concerns and develop a custom integrative solution to meet your specific needs. Prices for custom solutions vary.
This is similar to how things work when going to see your Vet. You pay a visit fee and then pay for each additional service provided.
(Prices are subject to change. Discounts and payment options are available for preferred customers and referrals from partnering independent pet stores.)
How Long Does It Take?
This depends on the service.
In-Home Day Training Programs are usually 2-3 weeks.
In-Home Dog Training/Private Lessons are usually done once a week over 4-6 weeks.
Custom diets usually take 5-7 days.
There is currently a 1-2 week waiting period for new dog training clients and custom diets. Please contact Cyndi right away to get on the schedule.